St. Paul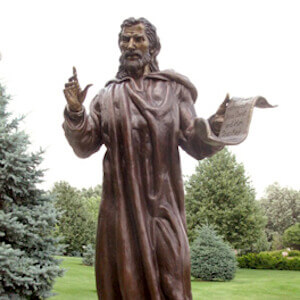 Saint Paul, whose 13 letters comprise over one thirdof the New Testament, is known as "the apostle to the Gentiles." He was a man of immense intellectual and spiritual gifts, and from the day of his conversion, was fiercely committed to Jesus Christ.
In the three decades after the Crucifixion, Paul traveled throughout the Mid-East, Europe and Asia, establishing Christian communities and teaching the Gospel. He served the early church with untiring devotion, suffering much physical deprivation and persecution in the process (2Cor: 21-29).
This 6 ft. tall bronze sculpture of St. Paul portrays his fiery and passionate personality and his zealous desire to spread the Gospel.
Dimensions: Height - 6'
Material: Bronze