St. Therese (St. Teresa) - Resin
"The Little Flower"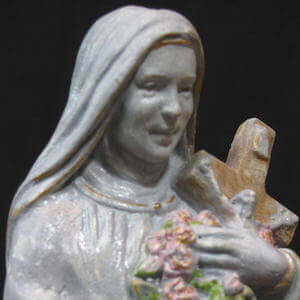 A sensitive and original portrait of the beloved young saint from Lisieux, France. This 10 1/2 inch tall sculpture is available in bronze and in resin. Life-like sculptures of St. Therese are rare, but this one meets every expectation from the gentleness of her expression, the detail in her roses and Crucifix, the Carmelite habit, and even her sandals and toes. Therese is the patroness of innumerable clergy, laity, and saints. She reminds us that "All is Grace!"
Portrait created from historical photographs.
Material: Polyresin
Other Sizes: St. Therese (St. Teresa) Bronze