Sondra L. Jonson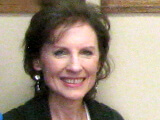 Sondra L. Jonson of S. L. Jonson Studios began planning her career in art at the age of 5. Her studio, established in 1985, has produced a large line of sculptures, from miniatures to monuments, for clients throughout the United States and in Europe. Jonson, a Magna Cum Laude graduate of Bryn Mawr College, and a former student of EvAngelos Frudakis, has developed a signature style which is both classical and contemporary, powerful yet tender, always sensitive to form, color and message.
Sculptor Sondra L. Jonson was born in Philadelphia, Pennsylvania, and studied at the Philadelphia College of Art, the Pennsylvania Academy of Fine Arts, the Centro de Estudios Hispanicos (in Madrid, Spain), and graduated, Magna Cum Laude, from Bryn Mawr College and the Frudakis Academy of Art.
Now in her 27th year as a professional sculptor, Ms. Jonson has established her reputation as a master of human figure and portraiture. Her sculptures always display skillful craftsmanship while looking deeply into the human story. She has competed and placed in national and international competitions, including the Oklahoma City Memorial Competition, and has sold Bronzes to collectors across the United States and in Europe.